At our house the Tooth fairy likes to leave money origami every time our kids lose a tooth. They are always so excited to see what they will get when they wake up in the morning. I love doing it, and I hope that it is something they will always remember. A lot of the time it's hard to find free instructions when I am looking for the design I want to use. So I decided that it would be fun to make a list of some of my favorite shapes. All of them have instructions showing you how to make your own and the best part is that the instructions are free, other than the dollar you use to fold it of course! Some of them have more than one dollar that goes into the design, so you'll have to decide how generous you want the tooth fairy to be. Without further ado here are 15 of my favorite dollar bill origami for gifts from Tooth fairy!
1. This Bulldog from origami usa is a super cute. I love how they used patterns on the bill to make the mouth and eyes!


2. This boat from origami instructions is easy and super fun. You could use it to hold coins if you want to add a little extra.


3. Oops! The Tooth Fairy left behind her shoe! Try making this pixie shoe from origami instructions!


4. Here is a fun star from Homemade Gifts Made Easy. It uses 5 dollar bills, so the tooth fairy will need to be feeling generous to leave this one!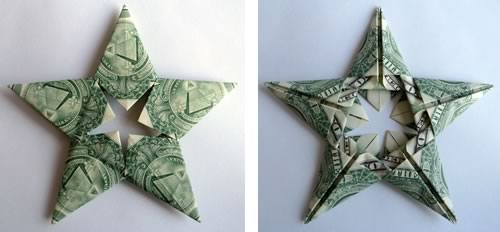 5. Try out this cute weiner dog from do origami.


6. This origami bunny on about.com is super cute!


7. Try this origami elephant from origami instructions!


8. This is a fun origami frog that actually jumps from Snapguide!


9. Check out these amazing origami butterflies from Make-Origami.com!


10. Here is another cute one from Make-Origami.com.


11. This fun ring is another cute one from Homemade gifts made easy.


12. This amazing origami heart from instructables is so cute. An it holds a quarter to add a little extra to the tooth fairy's gift!


13. This Jet from wonder how to is super amazing for your kid that loves airplanes. It looks tricky, but definitely worth it.


14. This box from wonder how to is another fun one. You can use it to put coins in, or a small note from the tooth fairy!


15. This is a cute basket from Filth Wizardry that would make a fun gift from the tooth fairy.