Introducing Sweet Shoppe Jewelry


With Mother's Day coming up I wanted to share something that I love and also give you a chance to own something that I love with this "Sweet" giveaway for a chance to own some "Sweet" Jewelry. My Sis-In-Law Beckie Griffiths owns a company called "Sweet Shoppe Jewelry" she has been making jewelry since I've known her and I am always in awe at her amazing talent. She can take completely random things and somehow puts them together so perfectly. Her stuff always comes out just right. She takes old vintage jewelry and takes it apart and combines it with handmade beads and other trendy pieces to create one of a kind pieces that are truly amazing. You need to check out her stuff and enter this necklace giveaway. You are entering to win one of two necklaces. Each are valued over $50 and are handmade by Beckie. If you are looking for a present you might like to have someone buy you or looking for a gift for the mom/woman in your life, now is the time to start looking. If you see things you like on her website she can custom make something just for you.

The great thing about this giveaway is the opportunity to win is endless. You get entries for doing the tasks in the giveaway form below, but in addition, if you comment on our Instagram post for this giveaway we will give you 1 entry per person you tag in your comment! So you can tag 100 people and you will get 100 extra entries. Pretty "Sweet" right? This will last one week so have fun tagging friends!! Oh, and before you start tagging friends make sure to follow me on Instagram first through the entry form below so you are sure to get credit!

To learn more about Sweet Shoppe Jewelry check out this cute video!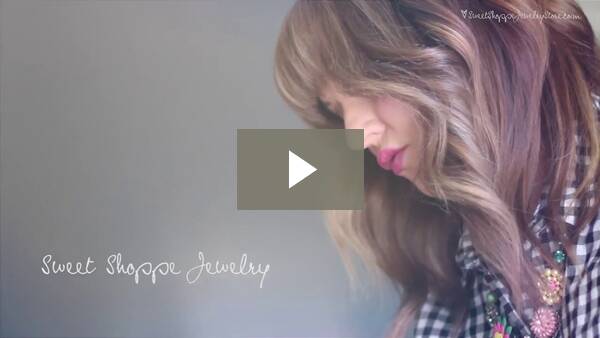 Since we all have a little different taste in jewelry, Beckie has decided to let the winner of the giveaway pick your favorite of the two necklaces in the picture below. Both are beautiful! If you win we'll email you and you can let us know which you would like!
Enter Below!